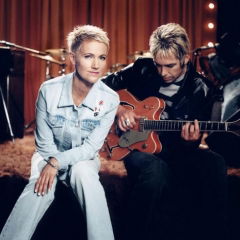 GOODBYE TO YOU
ROXETTE
LETRA
Goodbye to you,
Goodbye to broken hearts,
Goodbye to romance,
Hiding in the dark,
Nights that leave a scar.
Goodbye to you,
Goodbye to empty cards,
Goodbye to this ball of bliss,
I'm dancing from your arms.
And I fill the bedroom
With silent visions of rain.
And I paint the morning
With echoes from pleasure in pain.
I don't want to touch emotions,
I just got to run away.
Electric blue like oceans,
Wild like lovers sway.
Goodbye to you...
And I seal the pillow
And shatter dreams down the hall.
And I hang the heartache
Like pictures on the wall.
Can you hear the sound of angels
They're playing hurting games?
Well, I'm a stranger when I'm leaving,
I was a stranger when I came.
Goodbye to you...


TRADUÇÃO
Roxette - Goodbye To You (TRADUÇÃO)

Adeus A Você Adeus a você,
adeus aos corações quebrados,
adeus a romance, escondendo na obscuridade,
noites que deixam uma cicatriz. Adeus a você,
adeus para esvaziar cartões,
adeus a esta esfera do bliss, eu estou dançando de seus braços.
E eu encho o bedroom com as visões silenciosas da chuva.
E eu pinto a manhã com ecos do prazer na dor.
Eu não quero tocar em emoções, mim comecei apenas funcionar afastado.
O azul elétrico gosta dos oceanos, selvagens como o balanço dos amantes.
Adeus a você... E eu selo o descanso e quebro sonhos abaixo o salão.
E eu penduro o heartache como retratos na parede. Pode você ouvir o som
dos angels que estão jogando ferindo jogos? Bem, eu sou um desconhecido
quando eu estou saindo, mim era um desconhecido quando eu vim. Adeus a você...


BY: SUSANI CÓRDOVA RAMOS.