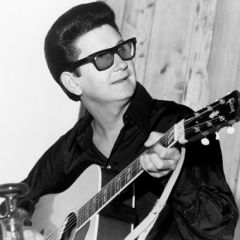 IN DREAMS (1963)
ROY ORBISON
LETRA
A candy-colored clown they call the
Sandman
Tiptoes to my room every night
Just to sprinkle stardust and to whisper
"Go to sleep. Everything is all right."

I close my eyes,
Then I drift away
Into the magic night.
I softly say
A silent prayer,
Like dreamers do.
Then I fall asleep to dream
My dreams of you.

In dreams I walk with you.
In dreams I talk to you.
In dreams you're mine.
All of the time we're together
In dreams,
In dreams.

But just before the dawn,
I awake and find you gone.
I can't help it,
I can't help it, if I cry.
I remember that you said goodbye.

It's too bad that all these things,
Can only happen in my dreams
Only in dreams
In beautiful dreams.
TRADUÇÃO
[In Dreams]
[Em sonhos]
Um palhaço cheio de doces coloridos que eles chamam de Sandman
Ponta dos pés para o meu quarto todas as noites
Só para polvilhar pó mágico e sussurrar
"Vá dormir, está tudo bem"

Eu fecho os olhos
E viajo para
Dentro da noite mágica.
Eu digo baixinho
Uma oração silenciosa,
Como fazem os sonhadores
Então eu durmo para sonhar
Meus sonhos com você

Nos sonhos eu ando com você
Nos sonhos que eu falo para você
Nos sonhos você é minha
Estamos juntos o tempo todo
Nos sonhos,
Nos sonhos.

Mas, pouco antes do amanhecer,
Eu acordo e descubro que você se foi.
Eu não consigo evitar,
Não consigo evitar, se eu chorar.
Eu me lembro que você disse adeus.

Pena que todas essas coisas,
Só acontecem nos meus sonhos
Só nos sonhos
Em belos sonhos.